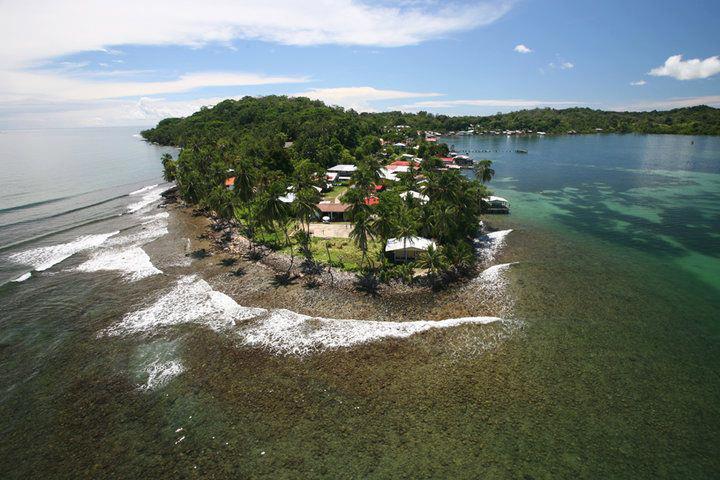 Isla Bastimentos is one of the larger islands in the archipelago and home to the sleepy town of Old Bank, the Salt Creek indigenous community, and the Isla Bastimentos National Marine Park. You will also find the Red Frog Beach development and some postcard perfect beaches here in Bastimentos.
Old Bank is a small one-sidewalk town of several hundred inhabitants, many descended from the Antillean labor force originally brought over to work in the banana plantations. You can get here by water taxi for about $5 in less than 10 minutes. The locals speak a unique form of creole called Guari-Guari, which is based mostly on English with a heavy patois accent and peppered with Spanish and local indigenous dialects (Ngöbe and Buglé). Since the language is based heavily on English the locals can mostly make themselves understood in English when they want to.
Salt Creek is a bit further away and harder to get to but getting there is a boat ride through a mangrove forest that will make you feel like Indiana Jones discovering some hidden village. The local community has organized several tours and hiking trails for reasonable prices, though boat rides are not included. This is one of the only ways to really see the land-based part of the Isla Bastimentos Marine Park. You will have a good chance to see sloths, howler monkeys, poison-dart frogs, caimans, and tropical bats.
Isla Bastimentos has perhaps the most stunning beaches on the islands but they are all on the windward side facing out to sea, so be very careful about riptides if you decide to go swimming. The beaches are also inaccessible by boat during certain times of year. The closest beach to Old Bank and Bocas Town is Wizard Beach. Wizard Beach is a long beach with no development about 45 minutes outside of Old Bank on foot. Polo Beach is only accessible by boat, so if you are in Bocas on a calm day you can charter a boat out to this pristine beach behind a protective reef that is a spectacular place to snorkel or scuba dive. Long Beach is an important ecological site for the endangered leatherback sea turtles that come to lay eggs beginning in February and tapering off in August.
Red Frog Beach is easy to reach year-round. Simply catch a boat to the Red Frog Marina and walk across the island to the beach for $3 per person. The Red Frog Beach development offers bungalows, a hostel, a tent lodge, a zipline canopy tour, and restaurants. The beach is the place to go if you want to take in some sun and do some people watching.
Bastimentos Island is also home to a few stunning eco-lodges nestled in the rain forest or among the mangroves. Mostly all-inclusive luxury lodges that are essentially you very own private island hideaway. One such place, Los Secretos Resort, offers up stone-baked wood fired pizza and other great food, nature trails, snorkeling, and a pool overlooking some of Bocas del Toro's best views in a 10-acre piece of eco-lodge in Bahia Honda.